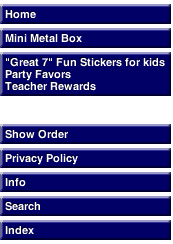 Black Color
Dimensions:3.80" x 3.75" x 7.5"High
This a miniature replica of a postal mailbox. This little working model features a pull-down drop chute, a coin slot on the front, and a locking, removable front panel. Comes with 2 keys
Safety Hazards. Item contains small parts and hard metal. Not appropriate for kids under 5 years old.
FREE STANDARD SHIPPING IN LOWER U.S. 48 STATES AND WASHINGTON D. C.





eWarehouseStore.com
30058 Avenida Elegante
Rancho Palos Verdes, California 90275
United States of America
Email: Sales@ewarehousestore.com
Phone: 310-539-0078 Fax: 310-975-1310
Copyright 2017 eWarehouseStore.com All rights reserved.