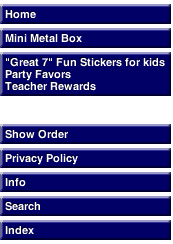 Stickers are fun. Collect them! Trade them! Give them to everyone you know! Decorate with them on: BOOKS, CARDS, LETTERS, ENVELOPES, LOCKERS, ALBUMS, GIFTS...ETC. These stickers, printed on Fuzzy paper material, are deliberately die-cut and designed in great details by our artists and skillful workers. Great for kids fun, party favors, teacher rewards.

1. PFZ0403 Chick sticker
2. Unit of purchase: dozen packages (12 packages)
3. Each package contains a 2" x 6" sticker strip of 3 modules. Each sticker strip, then is beautified and protected with a backing card in a value-added cellophane bag.
4. 4 Stickers are contained in a 2" x 2" module.
5. There are more than 300 sticker designs and types in our whole collection.
6. Safety Hazards. Item contains small parts. Not appropriate for kids under 3 years old.
FREE STANDARD SHIPPING IN U.S.





eWarehouseStore.com
30058 Avenida Elegante
Rancho Palos Verdes, California 90275
United States of America
Email: Sales@ewarehousestore.com
Phone: 310-539-0078 Fax: 310-975-1310
Copyright 2017 eWarehouseStore.com All rights reserved.