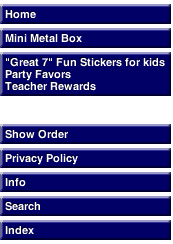 Great Value!
12 packages of assorted sticker designs. Designs may vary.
Kids Stickers, Party Favors Stickers, Teacher Rewards Stickers
Each package contains one strip of 3 modules. Our stickers are contained in a 2" x 2" module
Each sticker strip (2" x 6") is beautified and protected with a backing card in a value-added cellophane bag.
FREE STANDARD SHIPPING IN U.S.






eWarehouseStore.com
30058 Avenida Elegante
Rancho Palos Verdes, California 90275
United States of America
Email: Sales@ewarehousestore.com
Phone: 310-539-0078 Fax: 310-975-1310
Copyright 2017 eWarehouseStore.com All rights reserved.