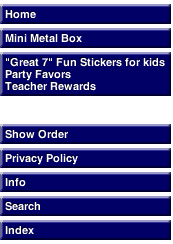 Stickers are fun. Collect them! Trade them! Give them to everyone you know! Decorate with them on: BOOKS, CARDS, LETTERS, ENVELOPES, LOCKERS, ALBUMS, GIFTS...ETC. Great party favors and teacher reward.
1. Item No. RMP4302 Whale Sticker
2. 400 Whale Stickers in a roll of 100 modules (2" x 2").
3. These stickers, printed on Fuzzy material, are deliberately die-cut and designed in great details by our artists and skillful workers.
4. There are more than 300 sticker designs and material types in our whole collection.
5. Safety Hazards. Item contains small parts. Not appropriate for kids under 3 years old.
6. FREE STANDARD SHIPPING IN U.S.


eWarehouseStore.com
30058 Avenida Elegante
Rancho Palos Verdes, California 90275
United States of America
Email: Sales@ewarehousestore.com
Phone: 310-539-0078 Fax: 310-975-1310
Copyright 2017 eWarehouseStore.com All rights reserved.