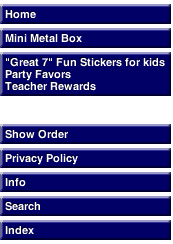 Dimensions: 6-5/16" wide x 5-15/16" deep x 12-1/4" high
This durable steel Kids Mini Metal Locker, CD Locker has a sleek and modern design that will fit any contemporary decor. There are two compartments inside. It neatly holds and displays up to 20 of your favorite CDs, or holds your smart phone, digital camera etc. Comes with real working padlock.
Safety Hazards. Item contains small parts and hard metal. Not appropriate for kids under 5 years old.
FREE STANDARD SHIPPING IN LOWER U.S. 48 STATES AND WASHINGTON D. C.





eWarehouseStore.com
30058 Avenida Elegante
Rancho Palos Verdes, California 90275
United States of America
Email: Sales@ewarehousestore.com
Phone: 310-539-0078 Fax: 310-975-1310
Copyright 2017 eWarehouseStore.com All rights reserved.